Specifications of Domestic KRI Teluk Weda-526 Landing Ship Tank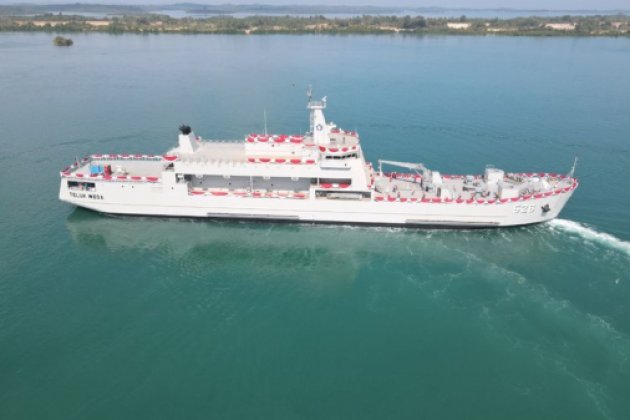 The Ministry of Defense ( Kemenhan ) has launched a landing ship tank (AT-8) H-355 KRI Teluk Weda-526 with various specifications.This domestically made ship produced by PT Bandar Abadi Ship Builders and Dry Docks has a length of 117 meters.
This ship is also capable of traveling at a maximum speed of 16 knots (full load). In addition, this ship is also capable of carrying 111 crew members (ABK), 367 soldiers, and 15 BMP-3F tanks .
Head of the Defense Equipment Center for the Defense Facilities Agency of the Ministry of Defense, Marsma TNI Asfan Jauhari, said this ship was intended for the Indonesian Navy (AL).
"Procurement of landing ship tank is part of the Defense Forces Development Program to realize a minimum essential force in accordance with the 2015-2019 strategic plan," Asfan said as quoted from Kemhan.go.id, Tuesday (2/3/2021).
Asfan said, the launch of this landing ship tank was an important moment.
Because, it marks the completion of the construction of the hull structure.
Where the procurement of landing ship tank is supported from the 2018 Fiscal Year Domestic Loan (PDN) budget.
After pocketing the PDN, the following year, to be precise on September 13, 2019, the construction of this ship began to accelerate.
Thus, the construction of this landing ship tank took only two years.
Ship The construction of this ship was completed according to plan.
The construction of this landing ship tank is one of the government's efforts to foster and encourage the independence of the domestic industry.
This was done in order to reduce dependence on other countries' industries, especially in the procurement of warships.
-- Designed By PT. Terafulk Megantara Design
-- kompas.com