PRTH BRIN Establishes Research Cooperation with PT IKI (Persero) and PT Terafulk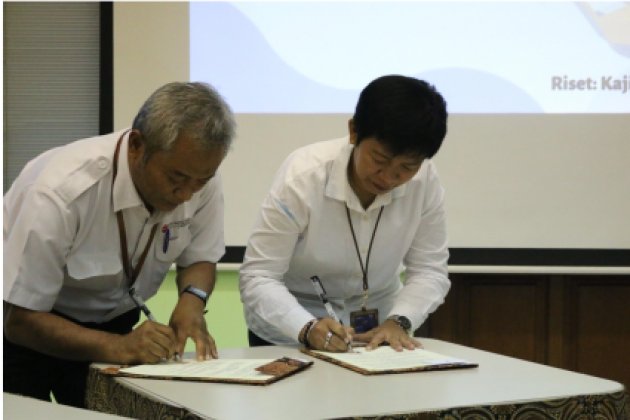 Surabaya, Public Relations of BRIN. Hydrodynamic Technology Research Center (PRTH) - BRIN establishes a research collaboration with PT. Industri Kapal Indonesia (Persero) and PT. Terafulk Megantara Design, particularly related to technology development research and production process with a case study of Mini LNG Ship, which is planned to last for 3 years (2022-2024). The signing of the cooperation agreement was held at the BRIN Auditorium in Surabaya on Monday ( 08/11 ).
PRTH BRIN cooperates with PT. IKI (Persero) on Research Shipbuilding Practices to support production technology for Mini Liquid Natural Gas (LNG) vessels. Meanwhile with PT. Terafulk collaborates on management research and production technology to support the construction of Mini Liquid Natural Gas (LNG) vessels. This mini LNG ship research activity is to increase the competitiveness of national shipyards .
The head of PRTH, Widjo Kongko said that this cooperation agreement is one of the indicators of BRIN's achievements in the context of downstreaming the research that has been produced. In addition , this cooperation can also increase competitiveness and the Domestic Component Level (TKDN). " This cooperation agreement is the beginning of research and innovation cooperation in supporting the domestic shipbuilding industry and hopefully this cooperation will be even closer ," said Widjo.
President Director of PT. Industri Kapal Indonesia (Persero), Diana Rosa, said that the momentum of this collaboration has made IKI more developed than previously focused on fishing vessels, which have now expanded to other types of vessels, including Mini LNG vessels. "We hope that this collaboration can produce an appropriate product research result and be able to encourage the progress of the Indonesian nation," said Diana.
President Director of PT. Terafulk , Edy Widarto said that the main focus of PT. Terafulk is doing ship design activities. " Various ship designs have been made from both fishing boats and submarines . Therefore, PT Terafulk is ready to assist this research in an effort to increase productivity and competitiveness of the national shipbuilding industry ," said Edy.
-- brin.go.id